HOW TO AVOID DISTRACTED DRIVING ACCIDENTS
---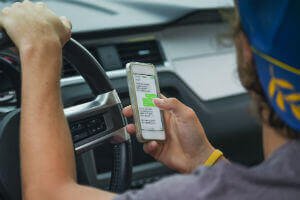 Every year, thousands of people are injured or killed in completely preventable car accidents that were caused by distracted drivers. However, many auto accidents can easily be avoided when motorists avoid dangerous behaviors like distracted driving.
If you believe you have been injured in a car accident caused by another driver's negligence, it may be in your best interest to contact a car accident attorney for help with your claim.
Mike Breen has helped numerous accident victims handle their personal injury claims to obtain the justice and compensation they deserve. I will provide you with a free, no-obligation consultation to determine if you have a case against the at-fault driver involved in your accident.
TYPES OF DISTRACTED DRIVING
Distracted driving occurs when a motorist operates a vehicle while engaging in another activity that diverts his or her attention away from the roadway. In 2016, approximately 3,450 people died in fatal auto accidents caused by a distracted driver, according to the National Highway Traffic Safety Administration.
There are three types of distractions that motorists can engage in:
MANUAL
A manual distraction occurs when your hands are occupied by something other than the steering wheel. This can include:
Eating and drinking

Smoking

Using a GPS device

Texting while driving

Adjusting your seat belt

Searching through your purse, wallet, glove compartment or center console

Turning your vehicle's knobs
VISUAL
A visual distraction is something that causes you to take your eyes off the roadway. Some common types of visual distractions include:
Checking your cell phone while driving

Searching for loose items on the floor of your car or in passenger seats

Changing the radio station

Adjusting your vehicle's settings

Doing your makeup

Focusing on objects or scenery away from the roadways
COGNITIVE
A cognitive distraction occurs when you take your mind off of driving and lose focus of the roadway. This can occur when you are:
Engaging in road rage

Focusing on an event other than driving

Daydreaming

Under the influence of drugs or alcohol
DO NOT USE YOUR CELLPHONE
Texting while driving is one of the most common causes of distracted driving accidents and resulted in approximately 3,450 deaths in 2016.
Using your cell phone while driving a very dangerous habit that significantly reduces your awareness, as well as your ability to react to sudden stops or upcoming hazards.
Additionally, using your cell phone while driving causes you to engage in all three types of distractions:
Visual: Looking at your phone's screen may cause you to lose visual awareness of the roadway.

Manual: Using your cell phone for texting prevents you from keeping both hands on the steering wheel.

Cognitive: Concentrating on your phone or a conversation you are having may prevent you from focusing on the roadway.
To avoid any distractions caused by a cell phone while driving, you should always turn off your device before beginning your trip.
LIMIT THE NUMBER OF PASSENGERS IN YOUR VEHICLE
Another common cause of distracted driving is traveling with too many passengers in your vehicle. This can cause you to lose focus on the roadway by engaging in conversations or interacting with your passengers.
To prevent becoming distracted by passengers, you should limit the number of people you allow to travel in your vehicle at one time. You may also make rules that your passengers must limit their interactions with you as you drive.
AVOID EATING WHILE DRIVING
Eating or drinking while driving is another common dangerous driving behavior that causes motorists to focus their attention away from the roadway.
Additionally, eating or drinking while driving also causes a motorist to drive without both hands on the steering wheel and may prevent his or her ability to react to an unexpected hazard or change in traffic.
For this reason, you should eat or drink before operating a vehicle so that you are able to properly focus on the roadway and keep both hands on the steering wheel.
TRAVEL WITH ANOTHER MOTORIST
If you are traveling a far distance, plan on traveling with another person who is also able to drive a motor vehicle. This may allow you to focus on driving and prevent you from engaging in certain distractions.
Traveling with another motorist has several benefits, such as having another person who is able to drive when you become tired. Your passenger can also perform any task that may cause you to become distracted, such as using a cell phone to communicate with others or programming your destination into a GPS device.
CONTACT MIKE BREEN
If you have been injured in a car accident caused by a distracted motorist, contact Mike Breen to find out if you may be entitled to compensation for your injuries and financial losses.